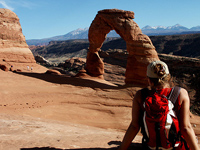 Oferty Work and Travel 2014
Position: Housekeeping Utility Worker
Company: Hilton Garden Inn
Company website: http://hiltongardeninn.hilton.com/en/gi/hotels/index.jhtml?ctyhocn=RAPGIGI
Location: Rapid City, South Dakota, USA 57701
Start date: beginning-mid June (participants must be in the US by June 10-15)
Pay rate: $8.50/hr
Expected Work Schedule: 5 days a week Wed-Sun - may vary
Housing: Will be provided at no cost to participants. Participants will share a house or apartment with 2-3 bedrooms.
Positions Requirements:
It is a physical work that requires good health to perform the below described activities for 8 hours per day; English at least at lower intermediate/communicative level;
Any gender as long as participants can comfortably share the 3 bedrooms in the apartment
Position details: Cleaning of hotel rooms and public space, vacuuming, mopping, dusting, cleaning bathrooms, making beds, laundry, taking out garbage and restocking supplies.

Location:
Wyoming, Cody - close to Yellowstone Park
Number of students
: Females: 6;
Positions:
housekeeping positions in the hotel / inn
Salary per hour:
8+ (additional $0.50 after 30 days)
Estimated h/week
: 40
Start range date: 2014- 05 - 25 - 2014-06-15
End range date: 2014-09-15
- 2014-09 25


Description:
Students will work in a hotel as housekeepers. The salary per hour will be raised (0.50 cents) after 30 days. Employer could arrange second job for students if they need one. The hotel is located close to Yellowstone National Park.


Accomodation:
Yes.The cost per week is $100. Fully furnished. Located max 2 miles from job.










Zostały podjęte wszelkie środki, aby informacje zawarte na stronie były aktualne. W ramach polityki stałego ulepszania swoich produktów FOSTER zastrzega sobie prawo do wprowadzanie w każdej chwili zmian w odniesieniu do przedstawionej oferty. Jednocześnie informujemy, że informacje zawarte na stronie nie stanowią oferty w rozumieniu kodeksu cywilnego. FOSTER nie ponosi odpowiedzialności za ewentualne nieścisłości lub niedokładności. Powielanie w jakiejkolwiek postaci oraz jakąkolwiek techniką części lub całości treści i elementów graficznych strony bez uprzedniego pisemnego zezwolenia FOSTER jest zabronione. Copyright © 2008 - 2015 FOSTER, wszelkie prawa zastrzeżone.

Używamy cookies i podobnych technologii m.in. w celach: œwiadczenia usług, reklamy, statystyk. Korzystanie z witryny bez zmiany ustawień Twojej przeglądarki oznacza, że będą one umieszczane w Twoim urządzeniu końcowym. Pamiętaj, że zawsze możesz zmienić te ustawienia.