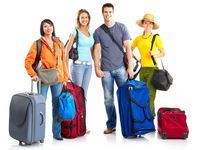 Work and Travel 2014

Zapisy na WAT 2014 wciąż trwają!

Zobacz oferty organizacji CCI Greenheart
w opcji Premium!
INFORMUJEMY ŻE TO PRACODAWCA DEDYCDUJE O PRZYJĘCIU DANEGO UCZESTNIKA
W PRZYPADKU NIE PRZYJĘCIA NA WYBRANĄ I PREFEROWANĄ OFERTĘ UCZESTNIKOWI ZOSTANĄ PRZEDSTAWIONE INNE OTWARTE OFERTY. MOŻLIWE JEST SKŁADANIE APLIKACJI NA KILKA WYBRANYCH PRZEZ UCZESTNIKA OFERT RÓWNOCZEŚNIE.
UCZESTNIK MOŻE TAKŻE ODRZUCIĆ DANĄ OFERTĘ I APLIKOWAĆ NA INNĄ.
Amusement Park/Theme Park/Water Park/ Camp
:

Pine Acres Family Camping Resort - Oakham, Massachusetts
Sun Communities Inc DBA Castaways RV Resort
- Berlin, Maryland
Sun Communities Inc DBA Lake Laurie RV Resorts
- Cape May, New Jersey - 1 miejsce
Christopher Maier T/A Land of Make Believe
- Hope, New Jeresy
Mill Run Campground Inc-Yogi Bear Jellystone - Mill Run, Pennsylvania
Regency CSP Ventures DBA Custer State Park Resort -
Custer, South Dakota
Holiday Travel Park - Virginia Beach, Virginia
Camden Park - Huntington, West Virginia
Hotels/ Resorts:
NEW! Dao House LLC DBA Aspen Lodge - Estes Park, Colorado

Enrico Nardone Motels DBA Parkside Inn -Mackinaw City, Michigan

Baymont Inn and Suites - Mackinaw City, Michigan
Mackinaw Waterpark Inc. DBA Quality Inn Lakeside - Mackinaw City, Michigan
Quality Inn - Billings, Montana
Yellowstone Basin Inn
- Gardiner, Montana
Faisal Corporation DBA Gorham MotorInn - Gorham, New Hampshire
High Point Inn - Ephraim, Wisconsin


NEW!
Pheasant Park Resort - Sister Bay,Wisconsin
Haldimand Bay Trading Co DBA Holiday Inn Express - Baraboo, Wisconsin
Restaurants/Fast Food Restaurants/Cafes
CLAS, LLC, dba Poker Alice - Lake City, Colorado
Captain Jack - Prior Lake, Minnesota
- 3 miejsca
Nathans Famous Brooklyn - New York
- 3 miejsca


R and L Foods at Eldora Speedway- New Weston, Ohio

Hansen Investments DBA Grizzly Creek Restaurant - Keystone, South Dakota
Woodstock Pizza Chef Inc. DBA Queechee Pizza Chef - White River, Vermont
- 2 miejsca
Alexanders Family Pizza Parlor of Eagle River- Eagle River, Wisconsin
Inne (lifeguards, retails sales):

National Geographic Visitor Center - Grand Canyon, Arizona
Southern Management Corporation - Silver Spring, Maryland
RSV Pools Inc - Gaithersburg, Maryland

Flamingo Island USA - South Haven, Michigan
Ely Sportswear - Ely, Minnesota

Deco Bay DBA I Love Duluth - Duluth, Minnesota
A and Y Sales, LLC DBA Moose Tracks - Grand Marais, Minnesota
Perfect Pool and Spa Management Inc - Norwood, New Jersey

PIB Candy Bar Inc DBA The Candy Bar - Put-in-Bay, Ohio
Lacks Beach Service - Myrtle Beach, South Carolina
Zostały podjęte wszelkie środki, aby informacje zawarte na stronie były aktualne. W ramach polityki stałego ulepszania swoich produktów FOSTER zastrzega sobie prawo do wprowadzanie w każdej chwili zmian w odniesieniu do przedstawionej oferty. Jednocześnie informujemy, że informacje zawarte na stronie nie stanowią oferty w rozumieniu kodeksu cywilnego. FOSTER nie ponosi odpowiedzialności za ewentualne nieścisłości lub niedokładności. Powielanie w jakiejkolwiek postaci oraz jakąkolwiek techniką części lub całości treści i elementów graficznych strony bez uprzedniego pisemnego zezwolenia FOSTER jest zabronione. Copyright © 2008 - 2015 FOSTER, wszelkie prawa zastrzeżone.

Używamy cookies i podobnych technologii m.in. w celach: œwiadczenia usług, reklamy, statystyk. Korzystanie z witryny bez zmiany ustawień Twojej przeglądarki oznacza, że będą one umieszczane w Twoim urządzeniu końcowym. Pamiętaj, że zawsze możesz zmienić te ustawienia.