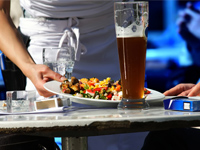 Work and Travel - oferta tygodnia.
Amusement Park Worker - Positions will be filled on an as needed basis by the employer. The jobs you can expect to work are ride operator, game operator, ticket cashier, food server, parking lot attendant, and arcade attendant. All are set on the beach in sunny California.



Oferta pracy



Region:
Santa Cruz, CA

Gender Preference:
None

Industry:
Amusement Park

Housing:
Required
Position Type:
Amusement Worker

Second Job Possible?
Yes
Start Date:
22.06.2011 - 26.06.2011
Pay Rate:
$ 8.25 per Hour or more

End Date:
07.09.2011 - 07.09.2011
Tips and Other Comp:
No

English Level:
Advanced
All qualified applicants must have advanced/fluent English skills as contact with patrons will be mandatory in each job. Some jobs may require prior cash handling experience. All positions will be dealing with the public so friendly personality a must.
| | |
| --- | --- |
| | |
| Housing Information: | Your housing deposit must be received by: May 1st. If it is not received, you will not have a place to live or a job. You can send a traveler's check with just one signature and the employer will hold it until you arrive. Deposit will be returned if you cannot obtain a VISA, or if you cancel the program with proper notice for any reason. |
| Housing costs: | $60.00 per week. Dorm style housing and apartment housing. $120.00 deposit is due no later than May 1st (MC, Visa, Money Order, Travelers Cheques) $110.00 of the deposit is refunded at end of housing if all terms have been met. Fax or send this to Santa Cruz Seaside Company at the listed address, attention Sequoia. A housing roommate form will be sent to you and you will need to fax it back to the number listed. SEND DEPOSIT EVEN IF YOU DO NOT HAVE YOUR VISA YET. THIS IS THE ONLY WAY YOU ARE GUARANTEED A POSITION. |
| Additional costs: | DEPOSIT MUST BE PAID BY May 1st, IF NOT PAID YOU HAVE NO CONFIRMED POSITION. |
| Housing features: | There is Apartment housing located either across the street from the beach and the employer or just a few blocks away. Santa Cruz has a good bus system that can transport you around the entire county. |
sprawdź pozostałe oferty pracy -
tutaj
-
Zostały podjęte wszelkie środki, aby informacje zawarte na stronie były aktualne. W ramach polityki stałego ulepszania swoich produktów FOSTER zastrzega sobie prawo do wprowadzanie w każdej chwili zmian w odniesieniu do przedstawionej oferty. Jednocześnie informujemy, że informacje zawarte na stronie nie stanowią oferty w rozumieniu kodeksu cywilnego. FOSTER nie ponosi odpowiedzialności za ewentualne nieścisłości lub niedokładności. Powielanie w jakiejkolwiek postaci oraz jakąkolwiek techniką części lub całości treści i elementów graficznych strony bez uprzedniego pisemnego zezwolenia FOSTER jest zabronione. Copyright © 2008 - 2015 FOSTER, wszelkie prawa zastrzeżone.

Używamy cookies i podobnych technologii m.in. w celach: œwiadczenia usług, reklamy, statystyk. Korzystanie z witryny bez zmiany ustawień Twojej przeglądarki oznacza, że będą one umieszczane w Twoim urządzeniu końcowym. Pamiętaj, że zawsze możesz zmienić te ustawienia.